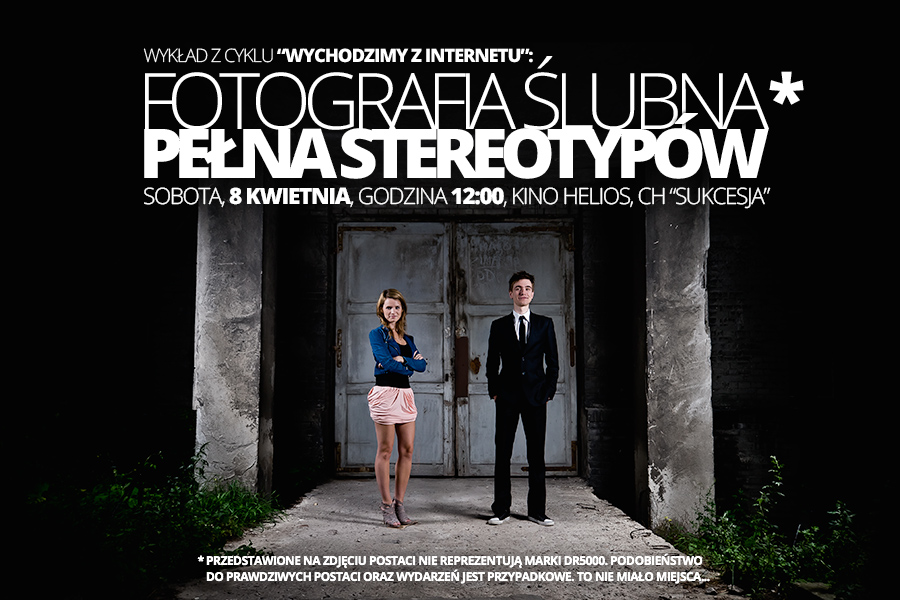 Warning! As of March 13, major organizational changes took place. We meet at the cinema, not at the fair, and participation requires provisions. Be sure to read the following text!
Here is the opportunity to meet! We would like to invite you to a lecture entitled
"Wedding photography full of stereotypes"
, that will take place
during, but not on, the site
of this year's tegorocznych
XX Fair Film Video Foto
. We will talk about our unique approach to many matters related to wedding photography. It will be a funny, interesting and addictive story. This is typically "our" :) And it is supposed to be a meeting not just any, because it will be a sample of
2-day wedding workshops that we plan to organize this autumn
. Workshops that will be completely different than those we have proposed so far. It is supposed to be, above all, at least half cheaper and if everything goes our way, they will be no less saturated knowledge. From scratch, or "how to get the first order", through purely photographic techniques, work with the frame, light and flash, through post-production and colors, to issues related to running a business, customer service, and marketing and image building. Everything is ahead of us and too soon to discuss the details, but it will be wonderful workshops, organized as you wanted. Yes, we listen to what you say and it will be as you wish;) Once again, we emphasize that
we will see ourselves outside the market hall
and this is a good change. We really wanted to avoid the situation from two years ago, when a very large group of people did not fit into the room, despite the fact that more than half of the room occupied standing places. We tried to engage exhibitors, we asked for help from the organizer, ie the International Lodz Fair. Unfortunately, it turned out that no one outside of us is organizing such large lectures, and the organizer did not agree to combine two rooms for us. To sum up: the largest photographic fair in Poland turned out to be too small for us! Ostentatiously, we leave the fair and invite you to an air-conditioned cinema room, where everyone will have a sitting place at their disposal! ;) We sign up for the meeting via the form below and the admission is free:
We are asking you that only those who will actually be with us in Łódź will sign up for the event.
The number of seats is limited and if you do not intend to come, do not take places to those who would like to visit us. The entries are synonymous with the reservation and mean that the place for each participant will be
guaranteed
. We will accept 250 reservations, which will be valid until 11:55. 5 minutes before the beginning of the lecture, we will start admitting participants from the reserve list. So exactly as it takes place in the cinema.
Therefore, we invite you to the Łódź cinema "Helios" for a lecture entitled "Wedding photography full of stereotypes", which will start 8 April, at 12:00. The "Helios" cinema is located in the "Sukcesja" Shopping Center, at Aleje Politechniki 1. "Sukcesja" is located within a 2-minute walk (170 meters) from the market hall and is located on the other side of the street at the market hall. It will be wonderful, as always! ;)
That's not all!
The lecture will be very intense and there will be no time to ask questions. However, the questions will be very long time! Olympus Polska invited us to his stage, and we invite you to the "Q & A" session, questions and answers, which will take place right after the lecture, at 14:30 on the main market hall, at the Olympus stand . You will be able to ask us any questions about our work, lecture, workshops, any equipment. We will be at your disposal! ;)